20 Books by Asian American Authors To Read
The Everygirl's product selections are curated by the editorial team. If you buy something through our links, we may earn an affiliate commission, at no cost to you. We only recommend products we genuinely love.
Here at The Everygirl, reading is one of our favorite relaxing hobbies to do at home (or really anywhere). It's the perfect way to wind down after a long workday or spend a lazy weekend morning. When it comes to what we read, we're always looking to diversify our options and support new voices, so we're turning to Asian American authors for our next favorite book. Whether you're looking for an easy read that satisfies your feelings of wanderlust, heartfelt memoirs that shed light on experiences different from your own, on-the-nose science fiction, or anything in-between, these books by Asian American authors should be at the top of your list.
Each of these titles come highly recommended from Goodreads, a site where millions of readers rate and review books they've read. You can even create handy lists to share your recommendations with friends. It's a favorite resource for book lovers, especially when you need the answer to the age-old question: What should I read next? Read on for 20 of the most popular books by Asian American authors.
Rachel Heng
Ah Boon is born into a fishing village in coastal Singapore in the waning years of British rule. He's a very gentle boy who is not much interested in fishing, preferring to spend his days playing with the neighbor girl, Siok Mei. But when he discovers he has the unique ability to locate unexplored islands that no one else can find, he feels a new sense of obligation and possibility, as he now has something to offer the community and is able to impress the girl he has come to love. But when they're caught in a sweep of Japanese army invasions, they must decide who they want to be, and what they are willing to give up.
Nguyen Phan Que Mai
In 1969, sisters Trang and Quỳnh are desperate to help their parents pay off debts, so they leave their rural village and become "bar girls" in Sài Gòn, which entails drinking and flirting with American GIs. As the war moves closer to the city, the once-innocent Trang gets swept up in a whirlwind romance with a charming American helicopter pilot, Dan. Years later, Dan returns to Vietnam with his wife, Linda, hoping to find a way to heal from his PTSD and also reckon with secrets from his past. At the same time, Phong—the son of a Black American soldier and a Vietnamese woman—embarks on a search to find both his parents and a way out of Vietnam. Abandoned in front of an orphanage, Phong grew up being called "the dust of life," and he dreams of a better life for himself and his family in the U.S. Both characters' pasts and present meet as they come together to confront decisions made during a time of war that force them to look deep within and find common ground across race, generation, culture, and language.
Gina Apostol
Rosario, a novelist living in NYC, has just learned of her mother's death in the Philippines. But instead of rushing home, she puts off her return by embarking on a remote investigation into her family's history and her mother's supposed inheritance, a place called La Tercera, which may or may not actually exist. Rosario catalogs generations of Delgado family history, and each life she explores leads to even more questions. But as the search for La Tercera becomes increasingly difficult, the country's erased history of exploitation and violence at the hands of American occupying forces is another story that finds its way to the forefront.
Kathryn Ma
Eighteen-year-old Shelley, who was born into a much-despised branch of the Zheng family in Yunnan Province and is now living in the shadow of his widowed father's grief, dreams of bigger and better things. Carried by a hopeful heart and his cousin Deng's tall tales about the United States, Shelley heads to San Francisco to claim his destiny, confident that he can overcome any hurdles with his "Chinese groove," a belief in the unspoken bonds between countrymen that transcend time and borders. But upon arrival in NorCal, Shelley is shocked to find that his "rich uncle" is actually his unemployed second cousin and that the grand guest room he'd envisioned is an old sofa. The indefinite stay he'd planned for now has a two week expiration date, but Shelley still creates a plan to keep his American dream alive that may even be able to bring his family back together in the process.
Abraham Verghese
Set in Kerala on South India's Malabar Coast from the years 1900 to 1977, this novel follows three generations of a family that suffers a peculiar affliction: in every generation, at least one person dies by drowning. The family is part of a Christian community that traces itself to the time of the apostles, but times are now shifting, and the matriarch of this family, known as Big Ammachi, will witness unthinkable changes at home and at large over the span of her extraordinary life that touch on themes of human understandings and communal hardships.
Jesse Q. Sutanto
Meet Vera Wong, a spunky sixty-year-old who prides herself on her tea expertise and internet sleuthing skills (mostly to check on her son's love life). Her peaceful routine takes a wild turn when she discovers a dead body in her tea shop one morning. With her keen senses and pure determination, Vera takes it upon herself to crack the case, knowing she can outshine the police in sniffing out the truth. But, in trying to sniff out the murderer amongst her customers, she ends up finding some unexpected friendships along the way.
Parini Shroff
Geeta's awful husband disappeared five years ago, and everyone is convinced that she killed him. Well, she didn't—but no one wants to think otherwise no matter how much she insists. She soon discovers that being known as a "self-made" widow actually has some perks: no one bothers her, threatens her, or tries to control her. It's even been good for her small business, as no one wants to risk getting on her bad side by not buying her jewelry. Other women start to see this wonderful life that Geeta's living and ask for her help to get rid of their own no-good husbands, and she fears that her reputation is starting to become a double-edged sword that could go awry at any second.
Ling Ling Huang
When an unfortunate accident leaves her parents debilitated and in need of her help, Anna abandons her future as a world-class pianist for a job at a high-end beauty and wellness store in New York City. While there, she befriends the store owner's niece, Helen, and Anna is quickly thrown into a world of privilege and given a sense of belonging that she's never experienced before. However, Anna may not be quite as kind and innocent as she seems as we follow a story of the faults of consumerism, self-worth, and identity.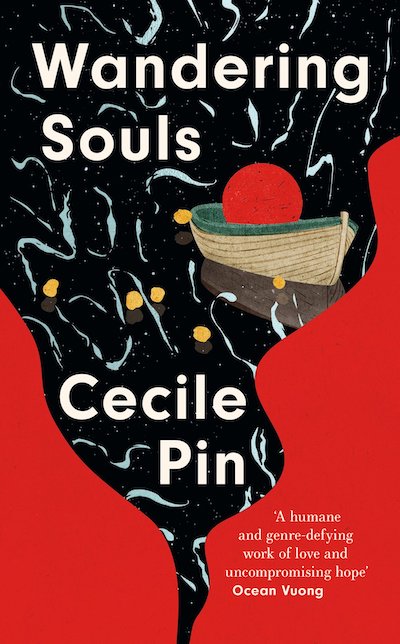 Cecile Pin
After American troops leave Vietnam, Anh, Thanh, and Minh embark on a risky journey to Hong Kong when tragedy strikes, leaving them orphaned and forcing sixteen-year-old Anh to care for her brothers. They resettle in the UK, facing challenges as refugees in overcrowded camps in a very divided London. Each sibling grapples with survivor's guilt, which leads to their paths diverging and begs the question: is love enough keep them together?
Tan Twan Eng
In the year 1921, Lesley and Robert Hamlyn live in Cassowary House, Penang, where their lives are suddenly disrupted when renowned writer Somerset Maugham and his secretary Gerald come for a visit. Maugham, struggling with his failing career, is seeking inspiration for his next book, and Lesley, trapped in a deceitful marriage, quickly catches Maugham's attention. As their friendship deepens, their biggest secrets begin to unravel, unveiling a captivating story of war, scandal, and love under the empire.
Janika Oza
In the early 1900s, Pirbhai, a teenager from India, is forced to work on the East African Railway for the British, and this desperate act for survival shapes his family's destiny. Now growing up in Kampala under British rule, Pirbhai's granddaughters, Latika, Mayuri, and Kiya, navigate a divided nation during Uganda's path to independence and dictatorship. Carrying the weight of their inherited history, they forge their own paths. In 1972, they're forced to flee under Idi Amin's brutal regime and the South Asian expulsion, leaving them scattered across the world. Once they finally reunite, a letter arrives that revives their haunting past and challenges their choices and allegiances.
Jinwoo Chong
8-year-old Bo faces loss when his mother dies tragically, causing his father to withdraw from the family. 28-year-old Brandon loses his job and experiences confusion in a strange apartment and office, suspecting something sinister is happening around him. 48-year-old Blue confronts a failed tech startup and seeks revenge on his former manager while keeping his family at a distance. Then, all of their lives intertwine with the downfall of a once-iconic '80s detective show, revealing unexpected connections and raising questions about changing the past.
Nicole Chung
From the bestselling author of All You Can Ever Know comes an incredible memoir that delves into family, class, and grief. Nicole Chung embarks on a search to understand her adoptive parents' lives, her own journey as an adult, and the losses she has endured. As she leaves her predominantly white Oregon hometown behind, she finds community on the East Coast. However, the middle-class world she builds for her family starkly contrasts the financial struggles she witnessed growing up. When her father dies prematurely due to healthcare disparities, followed by her mother's cancer diagnosis during the pandemic, Nicole confronts the distance between homes and the enduring power of family bonds.
Lamya H.
In this intimate memoir, Lamya H, a 14-year-old from South Asia living in the Middle East, grapples with her attraction to her female teacher. Feeling out of place, Lamya hides her desires and dreams, finding solace in the Quran. Drawing parallels to famous Quranic stories, she compares her experiences to find self-understanding. As she embraces her identity as a queer Muslim immigrant, Lamya discovers the importance of community and belonging. From her childhood to adulthood in New York City, this memoir explores courage, trust, and love, celebrating the journey of self-discovery and empowerment.
Jen Sookfong Lee
This introspective memoir reflects on how pop culture served as both an escape and a challenge Jen Sookfong Lee's life. From Anne of Green Gables to Princess Diana, she found solace and inspiration in mainstream icons, despite feeling like an outsider as the child of Chinese immigrant parents. Lee explores the influence of figures like Gwyneth Paltrow, Bob Ross, and Rihanna, connecting their impact to her own journey as an Asian woman, single mother, and writer.
R. F. Kuang
June Hayward and Athena Liu were supposed to be literary stars, but while Athena shines, June's book flops. However, when Athena passes, June seizes the chance and steals Athena's novel about Chinese laborers in World War I. She submits it as her own, becoming a bestselling author under the pseudonym Juniper Song. Her success is soon threatened by mounting evidence that shows the work isn't truly hers. As she fights to protect her secret, she's forced to confront her ambition.
Coming Soon: Highly Anticipated Books By Goodreads Members
Rita Chang-Eppig
This is the captivating tale of Shek Yeung, a woman thrust into power after her husband's death. In order to maintain control over her fleet, she swiftly marries her husband's second-in-command and has a child with him. However, as Shek Yeung strives for dominance and faces external threats, including the Chinese Emperor and European powers, she must grapple with the consequences of her actions and make critical choices that will determine the fate of her fleet and her own life.
May 30, 2023
Alexandra Chang
This collection of stories explores the complexities of loyalty to family, strangers, and oneself. Spanning across the US and Asia, it delves into the lives of immigrant families, grocery store workers, expectant parents, and even unsuspecting lab assistants. From a woman who scavenges bottles to a college graduate grappling with a lost friendship, the characters navigate the enigmatic nature of existence, inviting us to question whether it is possible to truly act in the best interest of others.
August 8, 2023
Uzma Jalaluddin
Nada Syed, on the verge of turning 30, feels very stuck in her life. Despite having a good job as an engineer, her aspirations for her failed tech startup haunt her to this day. But with her best friend Haleema's encouragement, Nada attends a Muslim conference where she reconnects with Baz, Haleema's fiancé's brother, revealing a hidden past between them. As their history resurfaces, Nada faces a crucial decision: let go of the past or embrace new beginnings for her dreams.
July 6, 2023
Yume Kitasei
On the brink of Earth's collapse, The Phoenix carries humanity's last hope—a group of elite graduates destined to give birth in deep space. But when a deadly explosion kills three crew members and alters the ship's course, Asuka becomes the sole witness and prime suspect. As tensions rise and trust wavers, Asuka races against time to uncover the truth and prevent further harm as loyalties are tested and the fate of the mission hangs in the balance.
July 18, 2023