An Air India Boeing 777 bound for San Francisco diverted to a small city in a remote part of Russia, which is interesting on a couple of levels…
Air India Boeing 777 diverts to small Russian airport
This incident happened today (June 6, 2023), and involves Air India flight AI173 from Delhi (DEL) to San Francisco (SFO). The flight was operated by a roughly 14-year-old Boeing 777-200LR with the registration VT-ALH. At over 7,700 miles, this is one of the longer flights out there.
The flight departed Delhi this morning shortly after 4AM local time, as expected. Air India uses Russian airspace (even on flights to the United States), so the aircraft started flying north, initially over Pakistan, then Tajikistan, then Kyrgyzstan, then Kazakstan, and then Russia.
Around eight hours after takeoff, as the plane was supposed to start the brief overwater portion of its flight (flying over the East Siberian Sea and then the Arctic Ocean, prior to flying over Alaska), the aircraft encountered a mechanical issue, requiring a diversion. There was apparently a technical problem with one of the engines, though we don't know the details beyond that.
The issue is, there aren't many airports you can divert to in this part of the world. At this point the decision was made to divert to Sokol Airport in Magadan, Russia (GDX). This is a fairly small regional airport that ordinarily sees just 400K passengers per year.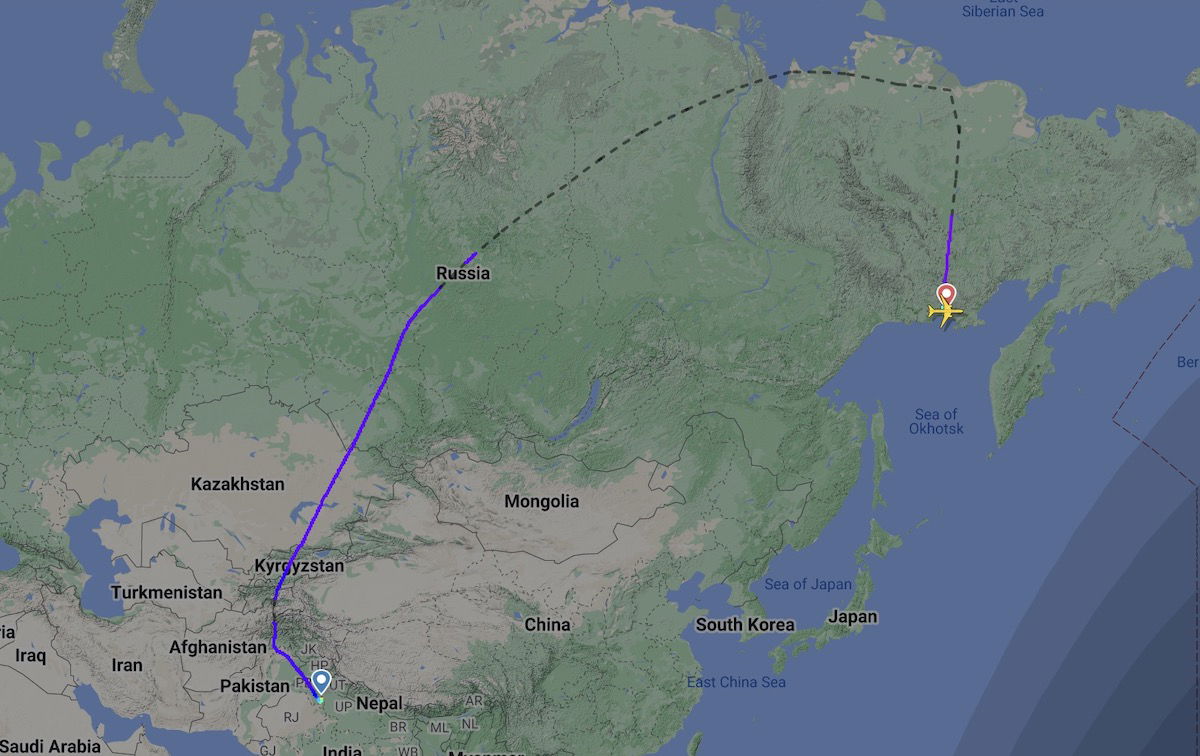 After flying south for nearly two hours, the Air India 777 touched down there, just under 10 hours after departing Delhi. That shows you just how remote of an area the 777 was flying in, given that it took nearly two hours to even get to a small airport.
At this point the jet and all passengers are on the ground at Sokol Airport. Air India is reportedly sending a rescue aircraft and crew to Russia, with the continuing flight expected to operate on June 7. The region doesn't seem to have that many hotels, so I'd be fascinated to know what the logistics were like of finding accommodation for 216 passengers and 16 crew members.
For what it's worth, the distance from Magadan to San Francisco is just under 4,000 miles, so the remaining flight time should be around eight hours. Magadan to San Francisco has to be one of the more unusual routes to ever operate.
This is interesting in light of Russian airspace rules
Russia's invasion of Ukraine in 2022 has had quite the impact on international air travel. All kinds of countries have reciprocal airspace bans with Russia, including the United States. This only applies to US airlines, as well as airlines codesharing with US airlines on a particular route.
Foreign airlines not codesharing with US airlines are allowed to use Russian airspace, even when flying to or from the United States (assuming their own countries don't have a similar ban).
The US has reportedly been considering restricting foreign airlines from using Russian airspace on flights to and from the United States. This is for a few reasons:
The current system puts US airlines at a disadvantage
The goal is to put as many embargoes in place against Russia as possible, and restricting more airlines from using Russian airspace would help with that, especially given the high fees that Russian ATC charges
There's a general safety concern of what would happen if a flight with a bunch of Americans diverted to Russia
Well, that's exactly what we're seeing here. Air India is one of the airlines that has most benefited from using Russian airspace over the past year, and now the airline has a Boeing 777 full of people (including many Americans) stranded in Russia. I imagine everything will go smoothly (especially given the good relations between India and Russia), though this is a first, as far as I know.
I'm also curious if some special permission will be required to operate a nonstop flight from Russia to the United States, given the current restrictions in place? Has Air India worked this all out already, or could there be an additional surprise here tomorrow?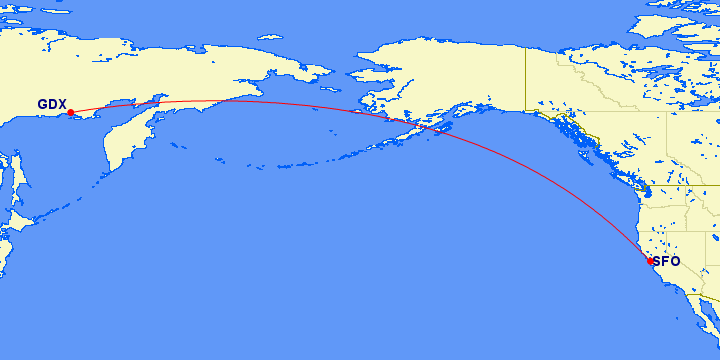 Bottom line
An Air India Boeing 777 flying from Delhi to San Francisco encountered an engine issue today, leading to a diversion. What makes this diversion so interesting is that Air India uses Russian airspace, and the airline diverted to a small airport in Russia.
I believe this is the first diversion we've seen to Russia of a US-bound passenger jet since the start of the war. Air India is now sending a rescue jet, which should transport passengers to San Francisco tomorrow.
Goodness, I'd sure be curious to know what the situation is like on the ground in Magadan. Talk about some challenging logistics on a variety of levels.
What do you make of this Air India 777 diversion?